Click to enlarge
Demetre Chiparus Art Deco Sculpture of a Pheasant
Item #2766 SOLD
A rare Chiparus sculpture cast in metal and rendered in elaborate Art Deco Style. The variation in the patination is quite unique with parts of the body of the bird in two tones of green, with the head and tail in metallic finish. The base is a combination of black and Portoro marble with inlays of amber stone. The majestic elongation of the tail makes this bird sculpture as elegant as the ballet dancers Chiparus was famous for using as inspiration.
The other well recognized inspiration for Demetre Chiparus was the 1920s fascination with the excavation of King Tut's tomb and the "Egyptomania" that influenced art and fashion of the period.  The head of the pheasant actually resembles the pharaoh's headdress.
To view a Chiparus statue of Cleopatra in our current collection that exemplifies the Egyptian influence in his work click the button below.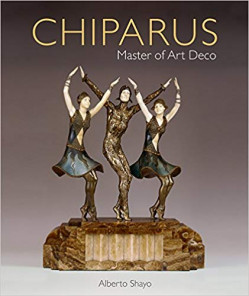 There is a wonderful book by Alberto Shayo that chronicles his life and his work
Demetre Chiparus was born in Romania in 1885 and moved to France before WW1. He studied in Italy and also at the Ecole des Beaux-Arts in Paris, and exhibited at the Salon in 1914.  He is most famous for his sculptures created in the 1920s, often combining bronze figures with hands and faces carved in ivory. His work is emblematic of all that is the "Art Deco Style" and he created a wealth of statues through the mid-1930s. The Etling and other foundries ceased production during WWW2 and after the war, Chiparus primarily did sculpture of animals but sold little of that work.
There is a very small ding in the back corner of the marble base, hardly noticeable. See the last photo.
Measurements
29.5″ W x 14″ T x 6″ D
Price (USD)
$ Price not available