Click to enlarge
Etling Art Deco Elephant Vase French 1930s
Item #3033 SOLD
Etling Art Deco Elephant Vase French 1930s. Rare and unusual Edmond Etling vase with sculpted front view of elephant's head and trunk, repeated in deep dimensional depth around the upper center of the vase (6 in total).
Decorative art pieces with animals are always more desirable and certainly sought after by collectors. This piece is extremely unique because the elephants make such a pronounced style reminiscent of what was a very popular idea seen through the decorative arts world in France during this time.
Frosted elephant molded glass signed Etling  France vase, after Lalique, circa 1930, can be used as a lovely sculpture or filled with flowers. Reinforced upper opening.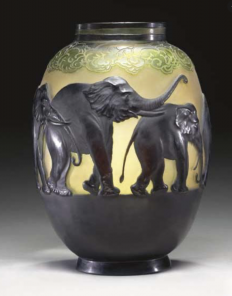 Measurements
12″ t x 10″ W x 10″ D
Price (USD)
$ Price not available