Click to enlarge
Classic Art Deco Complete Set of Silverware In fitted box
Item #2071
Classic Art Deco Complete Set of Silverware, 165 Pieces in total by Plata Lappas. This pattern is called "Normandie"  and it includes service for 12 (with13 pieces per place setting), plus 9 serving pieces all in a fitted Storage Box with 4 drawers.
This set is restored, very large and a complete set!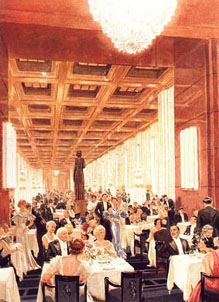 Nothing is quite as elegant as richly plated silveware done up in a sumptuous box and this is the set that "says it all and has it all". Argentine in origin and French in tradition…. it hails  from a time when people so often used the term " as rich as an Argentine".
Plata Lappas is a venerable company, having been founded in Buenos Aires in 1887 and still producing fine silver products today . Over the last century, Plata Lappas silver has been distributed through highly regarded stores Internationally and found in foreign embassies and top hotels, the finest homes and famed locations. The set we offer here is an heirloom, kept for many years with great care and worthy of being part of your family tradition now.
Plata Lappas is well known for the things they produced in the 1920s and 30s such as this complete set. The Normandie Pattern certainly took it's cues from the quintessential luxury ocean liner of all time and the individual pieces are in such good condition.
They have been professionally polished and "ready to serve you". "Normandie" is a sleek design with streamlined detail. It was made with the highest content of Nickel, and a quadruple Silver Bath plating process that exceeds things found the world over.  "Argent" is the word for silver…so of course one would expect the silver in Argent-ina to be of the very best quality!
Inside the beautiful wooden storage box, sumptuously refinished to show a most interesting grain and  perfectly fitted with fresh black velvet lining you will find every possible piece you might ever need!  Not only is it a "service for twelve" but it includes such wide variety:
dinner knives, luncheon knives and dessert knives and even fish knives. To accompany that are dinner forks, luncheon/salad forks pastry forks  and fish forks. Why its practically like a Downton Abbey dinner setting complete with twelve of each:  Service spoon, table spoon, soup spoon, cream soup spoon and tea spoon. Ah but wait!  you have yet to hear about the Serving  Pieces! Included are a Monumental soup ladle, seving spoon, sugar tongs. gravy ladle, salad servers (spoon and fork), cake server, ice tongs and a meat carving set.
Every item bears the stamped mark of Plata Lappas.
Measurements
Box is 18″ D x 20″ W x 27″ T with the lid open
Price (USD)
$ 6,500