Click to enlarge
Dutch Arts and Crafts, Amsterdam School, scroll cut, Birch Lamp Mica 1920
Item #2715 SOLD
Dutch Arts and Crafts, Amsterdam School, birch Lamp Mica circa 1920. Unique hand crafted lamp, restored, rewired and in perfect condition, ready to find a new home for the next 100 years. Amsterdam design of this period is special, a combination of Art Nouveau, Arts & Crafts, and of course Art Deco. Restoration includes, new cloth wire, vintage style plug, brass light socket, new mica shade and the birch wood was completely sanded and restored.
The Amsterdam School (Dutch: Amsterdamse School) is a style of architecture that arose from 1910 through about 1930 in the Netherlands. The Amsterdam School movement is part of international Expressionist architecture, sometimes linked to German Brick Expressionism. The Amsterdam School style spread beyond architecture to encompass interior design, with the result that items ranging from furniture and carpets to lamps and clocks were produced. Interest revived in the 1970s as well as at the beginning of the 21st century.
One of the most famous examples is the Tucshinski theater a must see in Amsterdam.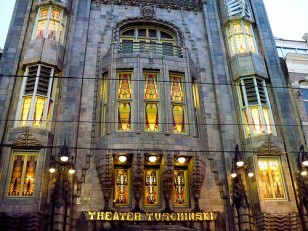 Measurements
21″T x 12″ W x 7″D
Price (USD)
$ Price not available