Click to enlarge
Art Deco-Mid Century Blonde Stand Behind Bar
Item #2160 SOLD
This sleek stand-behind bar would look equally at home in an Art Deco or Mid Century environment. Crafted in beautifully gleaming grained flame maple, it begs that age old question:
" Do blondes have more fun?"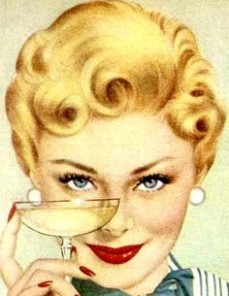 Well certainly this Blonde Wood Bar will ensure that you and your guests have more fun!  With its accompanying stools that make it a "real" and functioning bar, outfitted with plenty of storage drawers and shelves you are ready to entertain all the blondes, the brunettes and red heads on your list. Notice the subtle, but dynamic way the alternating light and dark panels of veneer form a pattern and just how nicely this would fit into the corner of a room.
Something else to catch your eye would be the metal kick plate and foot rest at the bottom of the piece, and the way it echoes the metalwork on the five comfortable black stools that are a part of this set. Now then, have you ever tried to find a bar with original, matching stools?  It is so very rare and we feel quite fortunate that we can offer this group to you today !
Measurements
52″ Wide (front ) 43″ Deep 44″ Tall
Bartop is 15.5″ Deep in Front and 10″ Deep on side
Stools 26″ tall and 13.5″ Diameter
Price (USD)
$ Price not available