Click to enlarge
Art Deco Ironwork Marble Topped Table
Item #2380
This French Style Art Deco Ironwork and Marble table was custom made for our shop in the "fer forge" tradition of Edgar Brandt . It combines the  delicately rendered "zig zag" deco design with the substantial presence of iron.
The hexagonal marble top and the  base are a sublime green marble and the proportion is just right for an entry way or nestled between two chairs. Durable, beautiful and extravagant this piece will evoke the rich artistry of the years of the Paris Exposition des Artes Decoratif, yet there is something clean and contemporary about this table as well.
We are so fortunate to have found a master craftsman to create these for us and you can be the lucky one to own it!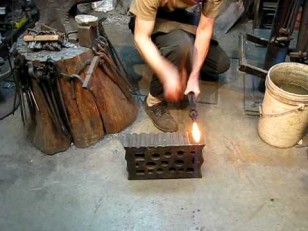 Measurements
29″ Tall and 24″ Wide
Price (USD)
$ 1,600