Click to enlarge
Jules Leleu Style Art Deco French Club Chairs Restored
Item #3350
Jules Leleu Art Deco French Club Chairs Restored. Unique and comfortable swooping armchairs that entirely reflect this Leleu design. Pictured here in historic French books. The fabric a soft velour in a creamy beige light green color. This is the perfect relaxing cocktail chair with a dark stained walnut wood frame.
The chair frame design is unique in the way the back leg is postioned so that there are no front legs in the design. You can see in the side view photos. This reinforeces the comfortible and unique feeling, very comfortible.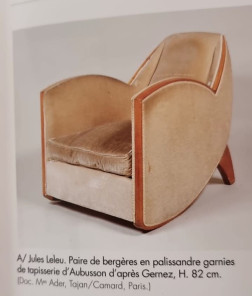 Leleu was among the most influential design families of the 20th Century. Based in their native Paris, they also exported furnishings sold in New York.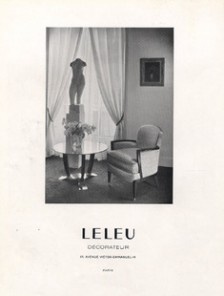 Measurements
29 wide x 30" tall x 20" deep
Seat height 17" from floor
Price (USD)
$ 14,000