Click to enlarge
Art Deco Day Bed "Fainting Couch" Custom Design
Item #2995
An Art Deco day bed and "fainting couch" that was custom made in a voluptuous, rounded style and upholstered in peach velvet trimmed in a burgundy piping . Fainting couches were made especially popular in the Victorian era, most often with a very ornate and feminine design. We were asked by a client to create something with the essential feeling… the rounded single arm, the swooping back, the lush fabric but in a decidedly sleeker and more moderne point of view.  French furniture books of the period in our collection  were consulted to inform  this piece.
Perfect for relaxing, watching an old movie, reading a magazine or posing for a photo, we offer this interpretation of a statement couch.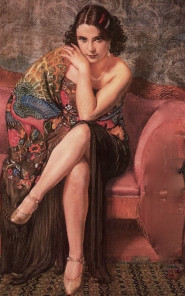 Measurements
 Overall length is 72 inches
Depth is 31 inches,
Height is 16.5 inches,
height and width of round pillow is 14 inches.
Back is 28 inches at highest point
Price (USD)
$ 2,800