Click to enlarge
French Art Deco Display Cabinet in Macassar by Leleu
Item #2530
Classic Art Deco Cabinet by Jules Leleu exhibits the fine details of French Modernist Furniture that won awards in the important Parisian expositions of 1925 and 1937.  His glamorous salons  for ocean liners like the Ile-de-France and the Normandie are other notable accomplishments,This example in rich dark macassar with blonde wood inlay and interior  creates a beautiful backdrop for display in the upper section with the sliding glass window and the lower section with its ample storage shelving.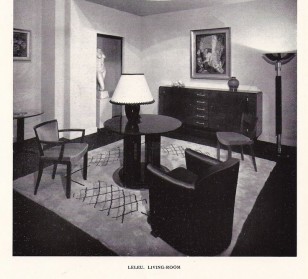 Jules Leleu was a prolific and forward thinking designer and furniture maker, credited with being one of the main contributors to the Art Deco Style. Though perhaps not as well known as Jean Michel Frank  or Emile Jacques Ruhlmann, he definitely achieved fame and numerous awards during his  long career begun in the 1920s and continued until 1973.He is especially regarded for his use of opulent materials such as macassar, ivory, ebony and other richly grained woods.
Born into a family of artists and decorators, their firm Maison Leleu was founded in the 18th Century and Jules Leleu was the head of the firm from the 1920s until the 1960.
Measurements
57″ tall
45″ wide
16″ deep
Price (USD)
$ 5,500