Click to enlarge
Zenith 12A58 Restored console Radio with Bluetooth circa 1936
Item #3185 SOLD
Zenith 12-A-58 console was produced in 1936, during what many consider Zenith's golden years. With a breathtaking cabinet design, twelve tubes, and dual speakers, this model is eagerly sought after by collectors. The 12-A-58 is sometimes called the "Baby Stratosphere," The distinctive fluted side columns and concave speaker opening.  with the bezel and multicolored dial printed in blue, green, red, yellow, and white. Lit from the edges, the tuning scale is a truly dramatic sight.
In the rearview, you can see the radio's two large speakers: a twelve-inch speaker for bass tones and a smaller one for higher tones. A tremendous sounding cabinet, you begin to hear the difference with 12 tubes and two speakers. Add to this the seamless Bluetooth capabilities and your home sound is really taken to another level.
A serious restoration with sensitivity to originality in the finish, all knobs, fabrics, and connectivity. We have completely refinished the cabinet and have restored the electronics for optimal enjoyment and also added the auxiliary jack that allows you to "pipe" music from your smartphone, iPod, etc. through the radio to enjoy more than just the few AM radio stations. The radio has all factory original knobs, grill cloth, and speakers. The shutter dial is clean with no crazing or deterioration.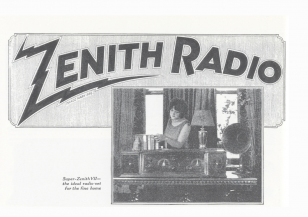 Measurements
42″ T x 25″ W x 15.5″ D
Price (USD)
$ Price not available