Click to enlarge
Vintage 1939 Stewart Warner 03-5B1 Art Deco Bakelite Tube Radio Bluetooth
Item #3233 SOLD
1939 Stewart Warner 03-5B1′Senior Varsity. Stewart Warner really hit a home run with this cabinet design. Art deco in the truest sense of the word and paired with machine age design elements. The results give this set such an incredibly unique visual appeal that many other radio designs could never catch up to. Featuring solid audio and great selectivity. This is a fully restored and working radio that is ready to play, display and enjoy for years to come in the comfort of your home or office. Restoration details are found just below the cabinet description. Striking mirror-like dark chocolate bakelite cabinet with hints of darker brown smokey swirling and marbling.
All numbers are easy to read with no flaking or fading. In the interest of safety, performance and reliability ALL paper, wax and electrolytic capacitors have been replaced with modern day equivalents. Any resistors testing out of their allotted tolerance have been replaced. Every tube was tested and replaced if found to be weak or under performing. Voltages are checked against the manufacturers specs. All moving parts are lubricated for smooth operation.
We've added a 1/8 inch adapter which will allow you to use this with your Bluetooth connection, iPhone, smartphone, iPods, or record player. Access your old vinyl, or tune into Pandora, Apple Music, or the playlist on your computer to provide the tunes and use the Bluetooth connection to bring the warm, bright, analog sound of a tube amplifier to any music or recordings you choose. The quality of the sound is excellent – just ask any guitarist since these kinds of tube-based amps are still being made and used today. You will have the best of "digital" and "analog" combined.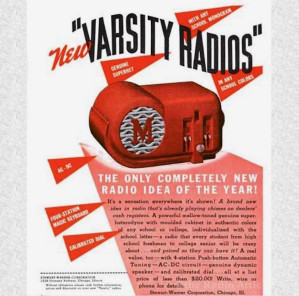 Measurements
7″ tall X 12 1/2″ wide.
Price (USD)
$ Price not available