Click to enlarge
Stromberg-Carlson Rectangular Chairside Tube Radio Bluetooth
Item #3214 SOLD
Stromberg-Carlson radios are known for their heavy-duty construction, Art Deco design, and reliable performance. This beautiful "rectangular" chairside is an extremely rare example. With its "Zephyr" style cabinet and very rare topaz colored mirror top. A cousin to its more common half-round model.  
Produced in 1937, this seven-tube, four-band (SB, SWx2, police) chairside has the original size 8-inch speaker, knobs, and dial scale. The glass mirror top is perfect. The cabinet has an exceptional restoration which is outlined with light and dark wood tones. Check out the beautiful front of this cabinet. This Stromberg-Carlson chairside is not only a high-performing radio, but it is also a beautiful piece of furniture!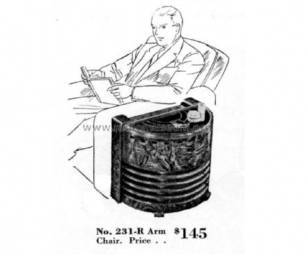 Additionally, this radio has been fitted with a 1/8 inch adapter which will allow you to use this with your iPhone, smartphone, iPod, or record player. Access your old vinyl, or tune into Pandora, Apple Music, or the playlist on your computer to provide the tunes and use the Bluetooth connection to bring the warm, bright, analog sound of a tube amplifier to any music or recordings you choose. The quality of the sound is excellent – just ask any guitarist since these kinds of tube-based amps are still being made and used today. You will have the best of "digital" and "analog" combined.
Measurements
27″W x 21″ D x 21″ T
Price (USD)
$ Price not available