Click to enlarge
RadioBar Company of America Philco Art Deco Radio Bluetooth Adapter Rare Model
Item #3250 SOLD
Art Deco Philco Radio Bar, one of the most highly sought after pieces by radio and bar enthusiasts alike. Created originally during the Prohibition Era, a time of fascination with hidden and secret liquor bars, it reached a high point with its 1936 design.  All the 39 pieces, glassware in 4 different sizes, decanters, cocktail shaker, fill this radiobar which we are very proud to offer here.  All of the glass is original for this bar, vintage glassware matching in size and style, pictured in this listing. The cabinet made of multiple kinds of burl wood, rosewoods, ebonized woods and the unique metal accents. Plus the radio has been recently restored and is now ready for another 50 years of fun.
The most desirable of all the RadioBar designs,  with many added improvements. Etched details in the mirror, more ornate bakelite knobs for the radio, center doors that open up, more spectacular wood treatment including multiple material elements, and of course the largest size which allows fitting the maximum glassware including two round ice buckets and the locked lower prohibition storage area.
This radio chassis has been tested, restored, and fitted with a 1/8 inch adapter which will allow you to use this with your iPhone, smartphone, iPods, or record player. Access your old vinyl, or tune into Pandora, Apple Music, or the playlist on your computer to provide the tunes and use the Bluetooth connection to bring the warm, bright, analog sound of a tube amplifier to any music or recordings you choose. The quality of the sound is excellent – just ask any guitarist since these kinds of tube-based amps are still being made and used today. You will have the best of "digital" and "analog" combined.
We have a copy of the original brochure which says it best:
"RadioBar provides the nucleus for formal and informal entertaining…hosts proclaim it, guests thrill to it…for the RadioBar with Philco is all things in one!  The 1936 models, all exclusively equipped with Philco radio receivers … are ideal for the living room, the den, the library, the "rumpus" room. Radiobar provides the host or hostess with a convenient and superbly appointed means of entertaining!  The Radiobar is not a "cellarette" to hide, but a magnificent piece of exquisitely designed furniture!"
This is the exact model we are offering.
 Model 528A-W-P620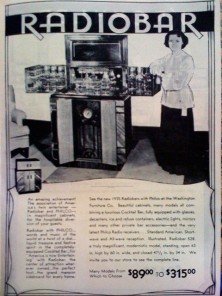 In addition to the high style design and the uniquely amusing combination of a radio and a bar, the Radiobar is featured in so many movies of the period as a kind of iconic symbol of luxury. You'll find it in the Bogart/ Cagney film "Angels with Dirty Faces" and taking center stage in" Gold Diggers of 1933″ when Joan Blondell and Warren Williams meet in her stylish Art Deco Flat. Catch another glimpse of it in the 1935 Alfred Hitchcock thriller "39 Steps" with Robert Donat.
A full size catalogue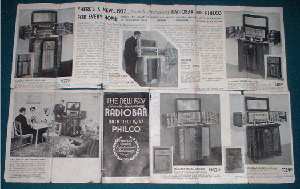 Measurements
48″ T x 33″ W x 17″ D closed
63″ T x 60″ W x 17″ D open
Price (USD)
$ Price not available