Click to enlarge
FADA Art Deco 1000 Catalin Butterscotch Bakelite Tube Radio Restored
Item #2663 SOLD
The famous Fada Bullet Art Deco Radio in butterscotch Catalin  is in excellent original condition.There are  no defects in the body, no chips, cracks, or repairs. The chassis  has been gone through quite thoroughly  and anything requiring service has been checked and replaced where required. The handles, tubes, resistors have all been checked. . The radio plays with amazing volume for it's size.
But it is the sheer amount of richly colored Catalin that sets this piece apart.
Catalin is a bit different from Bakelite Radios…which are traditionally  a dark brown color. We tend to call all early plastics "Bakelite" but it was the polymer resin "Catalin" that was invented in the 1930s that had the range of colors that we find so appealing today. This Fada in the classic "butterscotch" tone is highly collectible, especially in this impeccable condition!
Additionally, this radio has been fitted with an 1/8 inch adapter which will allow you to use this with your iPhone, smartphone, iPods or record player. Access your old vinyl, or log on to  Pandora, Apple Music or the playlist on your computer to provide the tunes and use the Bluetooth connection to bring the warm, bright, analogue sound of a tube amplifier to any music or recordings you choose. The quality of the sound is excellent – just ask any guitarist since these kinds of tube based amps are still being made and used today. You will have the best of "digital" and "analogue" combined.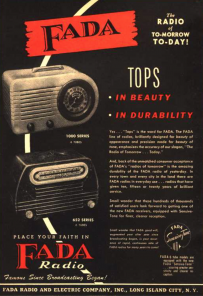 Measurements
10.5″ W x 6.5″ T x 5″ D
Price (USD)
$ Price not available