Click to enlarge
Zenith 12S2 67 Shutter Dial 12 Tube Console with Bluetooth Restored
Item #3296
Zenith 12S2 67 Sutter Dial 12 Tube Console with Bluetooth Restored. This console radio, introduced as part of Zenith's 1938 line in June 1937, is a much-coveted set that is rare and hard to find today. This is a 1938 Zenith 12 tube model 12S265, Zenith's most famous and collectible year. It is sporting the fabulous "Motor Drive Robot Shutter Dial" and green tuning eye. The large black dial is in very nice shape. The cabinets' book-matched walnut veneer is beautifully restored with a great lacquer finish and toned lacquer color trim. The grille cloth is a reproduction of the original pattern. The knobs are the original wood Zenith knobs, no reproductions here.
The superheterodyne chassis is a performer and plays full dial scale, loud and clear. There is an on/off switch for the Bluetooth transmitter that cuts out the AM reception, a nice feature for those who like to use it with their compatible equipment. This radio has been fitted with a 1/8 inch adapter which will allow you to use this with your iPhone, smartphone, iPod, or record player. Access your old vinyl, or log on to Spotify, Pandora, Apple Music, or the playlist on your computer to provide the tunes and use the Bluetooth connection to bring the warm, bright, analog sound of a tube amplifier to any music or recordings you choose.
The radio has had a complete electronic restoration – all the electrolytic caps were replaced with new production parts. All the paper foil capacitors were replaced as well. The dial belts are new for smooth motor operation and tuning. The chassis is clean and rust-free. The radio has a very nice reception with no hum. A brand new NOS green eye tube was installed to dress up its playing appearance. An outside antenna is necessary on old tube radios or a long wire.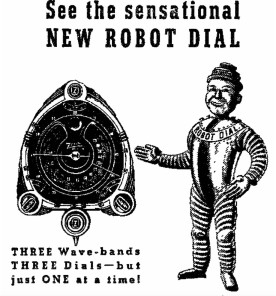 Measurements
Height: 43 in. x Width: 26 in.x Depth: 16 in.
Price (USD)
$ 7,000