Click to enlarge
Majestic Art Deco 886 'Park Ave' Console Radio (1933) Bluetooth
Item #3240
Majestic Art Deco 886 'Park Ave' Console Radio (1933) Bluetooth. This was one of a quartet of modernistic "smart set" console radios introduced by Grigsby-Grunow in September of 1933. The "Park Avenue" in particular has become an icon for modernism among radios designed during the golden era.
Art Moderne became popular in the United States during the 1930s, especially after the opening of the 1933 Chicago Wold's Fair. It evolved from the earlier more decorative Art Deco genre as a reaction to rapid technological advances, with innovative designers creating artifacts that artistically harmonized form with function. The influences ran wide, ranging from streamlined transportation to domestic appliances, to architecture, including homes. One can for sure imagine a radio like the Park Avenue, diminutive in size as console models go, melding perfectly with the minimally decorated interior of a moderne home.
The cabinet has been meticulously restored and the chassis has been tested with all tubes and wires replaced where needed. Additionally, 1n 1/8th inch jack has been added. It will allow you to use this with your iPhone, smartphone, iPods, or record player. Access your old vinyl, or tune into Pandora, Apple Music, or the playlist on your computer to provide the tunes and use the Bluetooth connection to bring the warm, bright, analog sound of a tube amplifier to any music or recordings you choose. The quality of the sound is excellent – just ask any guitarist since these kinds of tube-based amps are still being made and used today. You will have the best of "digital" and "analog" combined.
The size is great, not too large so it will fit in many spaces in your home, only 38″ tall and 19″ wide and 11″ D.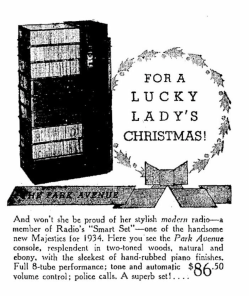 Measurements
38″ T 19″ W x 11″ D
Price (USD)
$ 7,500