Click to enlarge
Goodyear Wings 741 Restored Tube Radio with Bluetooth 1937
Item #3149
Goodyear Wings 741 Restored Tube Radio with Bluetooth 1937. Loaded with Art Deco influence from the distinctive grille, the accent stripes, wooden grooved knobs, and the waterfall front. The dial is very colorful and the airplane-style dial pointer is very stylish. The cabinet has been refinished using the very finest toning and finishing lacquers, producing a gorgeous luster. The electronics have been completely restored (no shortcut repairs, internally fused for your safety and has a new polarized power cord), and it plays very nicely on both the AM broadcast band and the two shortwave bands, as you'd expect from a seven-tube with two 6F6 tubes for push-pull audio.
Goodyear sold appliances and radios within their tire stores for many years. Back in the day, people associated tire stores with more than just tires. Installed with a mini-jack and the option of a BLUETOOTH. This will allow you to use this with your iPhone, smartphone, iPods, or record player. Access your old vinyl, or log on to Spotify, Pandora, Apple Music, or the playlist on your computer to provide the tunes and use the Bluetooth connection to bring the warm, bright, analog sound of a tube amplifier to any music or recordings you choose. The quality of the sound is excellent – just ask any guitarist since these kinds of tube-based amps are still being made and used today. You will have the best of "digital" and "analog" combined.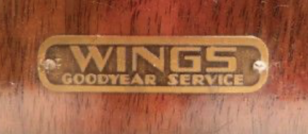 Measurements
19[1/2″W x 11″H x 8-3/4″D.
Price (USD)
$ 1,800