Click to enlarge
Fada Art Deco Bakelite Radio Bluetooth Speaker
Item #2653
A Fada Art Deco Bakelite Radio with Bluetooth Speaker. This fun small radio casing  in original dark brown bakelite and dial has been fitted with a bluetooth speaker. There are no original tubes or a working chassis. There is a removable bluetooth speaker that can be charged by with a USB cord either by connecting to your computer or directly  into the wall, just as you would a smartphone.
At Artdecocollecion.com We have a large collection of restored tube radios that have working tubes and also have bluetooth capabilities if you are looking for something slightly more involved.
This small brown Fada  would be great as a side radio, on the kitchen counter , desk or nightstand.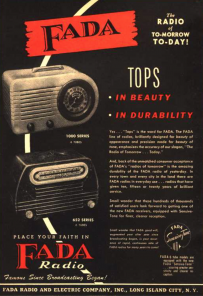 Measurements
8″ W x 3″ T x 3″ D
Price (USD)
$ 480