Click to enlarge
American Bosch model 854T (1939) The Largest Tombstone Radio
Item #3031
American Bosch model 854T (1939) am/shortwave with mini-jack installed.  The largest made table radio is as fine a radio as it is in size. The radio is a ten tube model offering both am and shortwave with a highly sophisticated super-het chassis. The radio has a touched up original factory finish, period-correct replacement speaker cloth, and factory knobs. The dial is unbelievable both in its colorful and brightly lit manner and the sheer size 11 inches wide unmatched in any other set.
Professional repairs and the radio simply is a beast. We added a brand new eye tube which winks with great sensitivity as you tune from station to station. Note the dual tuning knobs offering a macro/micro tuning ability. Add tone controls and you have a radio which sounds as good as it looks. An added a mini-jack to the electronics to allow your connection to any modern device. This means you can choose your own content using your phone, Ipad, or computer, or record player.
Access your old vinyl, or tune into Pandora, Apple Music, or the playlist on your computer to provide the tunes and use the Bluetooth connection to bring the warm, bright, analog sound of a tube amplifier to any music or recordings you choose. The quality of the sound is excellent – just ask any guitarist since these kinds of tube-based amps are still being made and used today. You will have the best of "digital" and "analog" combined.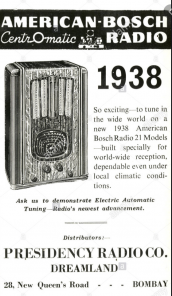 Measurements
25 ¼"h,18 ½"w,14 ½"d.
Price (USD)
$ 2,800