Click to enlarge
Art Deco Decanter and Glasses with Playing Card Motif
Item #3091 SOLD
Art Deco decanter and shot glasses with a playing card motif and all pieces embellished with hand painted hearts, clubs, diamonds and spades.
This set is done in highly refined glass and makes an elegant table top accessory.  Made in Czechoslovakia in the =1920s
Card playing  (and gambling) in the 1920s and 1930s was not only popular but considered a game for high society as well as "the masses".  Fancy
tally cards and napkins,  special drinks and appetizers. Even a dedicated candy (hence the name Bridge Mix).
No matter who has the best hand, , sipping a fine liquor served in this decanter will make winners of all the players.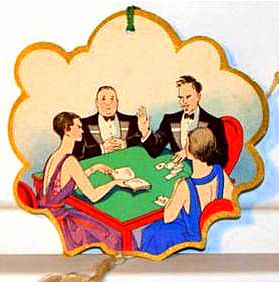 Measurements
Decanter 8″ Tall, 4.5″ Wide
Shot Glasses 2.25″ Tall 1/5″ Wide
Price (USD)
$ Price not available