Click to enlarge
Art Deco Czech Decanter with Six Glasses by Karl Palda
Item #2300 SOLD
This gorgeous Art Deco  Czech decanter set by Karl Palda is one of the finest we have offered. In addition to the jazzy black zig zag design, it is the embossing and ribbing of the glass that makes this set unique. With all six glasses and a substantial and decorative stopper, this one is ready to serve a fine liquer or to simply be an accent piece for your bar or buffet.
The Deco crystal and glass works of Bohemia were so advanced in their designs. Things they  produced in the 1920s and 30s were certainly on the forefront of cubism, avant grade and the "Deco" style that France often gets all the credit for…but Czechoslovakia was such an important center for this technique. Of all the designers working in that era, Karl Palda was one of the most inventive and "ahead of his time".
Now then, what makes sipping a fine tequila, cognac or scotch from a decanter so classy, so much more sublime?
 Well, would Fred Astaire have had it any other way?
 Of course not and neither should you!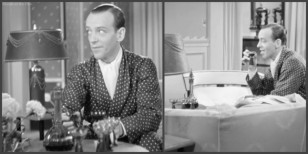 Measurements
Decanter 11.5″ tall, 5.5″ wide, 3.5″ deep
Glasses 4.5″ tall, 2.75″ wide
Price (USD)
$ Price not available