Click to enlarge
Art Deco Crystal and Silver Decanter Trio
Item #2454 SOLD
This graduated trio of crystal and silver decanters will add so much to any Art Deco era vanity table, boudoir or bar. The exquisite faceted crystal bottles and stoppers are accented with a silver rimmed neck. In very nice condition, there are no chips or cracksand they look beautiful as is, or they can be filled with your choice: liquor, perfume or even tinted water to echo the room decor.
Another decorating tip: If your plan is simply to display these rather than decant cologne or cognac, fill them with clear mineral oil. This will make them look their richest, it will gleam and catch even more light than the crystal alone.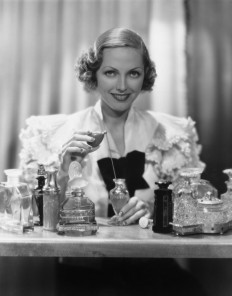 If you plan to use them in your bar, consider using the smaller bottles for bitters and vermouth and the largest for a rare liqueur.
"Just put your lips together and sip…"
Measurements
Three decanters:
7.5″ tall by 6″ wide
6.5″ tall by 4.5″ wide
4.5 tall by 3.5″ wide
Price (USD)
$ Price not available