Click to enlarge
Rare Catteau Gres Stoneware Pelican Vase
Item #2360 SOLD
Very rare  Art Deco Gres Keramis stoneware vase designed by Charles Catteau for Boch Freres of Belgium circa 1925. Stoneware pieces by Boch are some of the most desirable and unique to collect, but  stoneware pieces with animal motifs are even more difficult to find and extremely rare. Over the years whenever I have seen a decorative item whether glass, ceramic, stoneware or lighting, designs with animals are always the most  highly sought after.   Having  been a specialist in Boch pieces for over 25 years I have seen so many designs and yet this is one I have not seen before , even in the many books written on the history of Catteau and Boch Freres ceramics.
Recently acquired in Europe it is a handsome piece featuring stylized repeated pelicans in a way that only Catteau could capture. This is a nice size and would be a great addition to any collection. Stamped on the bottom:  Gres Ceramics, Charles Catteau, design #1025 and the single "C" with the Keramis wolf stamp "made in Belgium".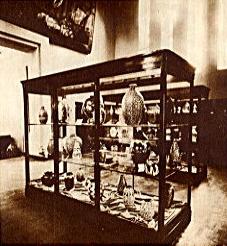 From the Belgian Pavilion at the 1925 Paris Exposition des Artes Decoratif
Charles Catteau
BIOGRAPHY:  (1880–1966) was a French Art Déco industrial designer.Born at Douai, Charles Catteau trained at the National Ceramics School in Sèvres and followed a training course at the National Porcelain Factory in the same town. In 1904, Catteau was hired by the German Nymphenburg Porcelain Factory, near Munich.  In December 1906 he moved to La Louvière with his family and started to work for Boch Frères Keramis, a Belgian earthenware factory located in La Louvière since the 19th Century. Under his leadership, he took the Boch factory to a high level of commercial success. He  is considered to be one of the great design directors of his time and the history and collectibility  of the work done during his tenure is the most sought after in the world of European ceramics from this period.
Measurements
11″ T x 6″ W x 6″ D
Price (USD)
$ Price not available