Click to enlarge
Muller Freres Luneville Hunters & Elephant Opalescent Glass plate
Item #2377
This stunning and extremely rare 1930s Art Deco opalescent  glass presentation plate was manufactured by Müller Freres in Luneville, France. A stunning African theme, echoes the design direction and influence of primitivism motifs used during this period.  The image sports a magnificent elephant being pursued by two African hunters. All aspects of the images are sitting on a stylized and quite complex floral design. This plate represents the old days, a time when hunters were massacring elephants for their ivory, fortunately that is no longer legal and this theme really becomes a symbol of a time in the past.
A strong sense of depth has been achieved by embossing or beveling part of the glass, producing very sharp details and a wonderfully tactile effect. The beauty of this plate is further reinforced by the treatment of opalescent opaque color on surface achieved by masterly color and polishing techniques. The glass is very thick and as such  is quite substantial. The plate is signed on the bottom back side "Müller Frères Luneville".
Leave the poor elephants alone!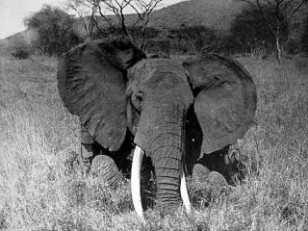 About Müller Frères:
The large Muller family originated from Kalhauzenand rested on a long tradition of glass workers. When the German Empire annexed the Elsace in 1871, the Muller family fled (9 brothers and 1 sister) to the quieter Lunéville. The two oldest brothers, Désiré and Eugène Muller, ended up in the glassworks of Emile Gallé, where they learned how to produce art glass (± 1885). The other family members found work in several other glassworks in the surroundings of Lunéville and developed into recognised glassdecorators. Moreover Henri, Pierre and Victor Muller also ended up working for Gallé. Around 1895 the time seemed ripe for Henri Muller to set up an independent glass workshop in Lunéville (rue the Sainte Anne). His brothers reacted enthusiastically and soon joined him, as a result of which the Muller Frères glassworks became a fact. The Mullers mastered all well-known glass decorating techniques and always experimented with new methods. They developed rapidly into a renowned company and established their name for their large diversity and quality (colour setting, decoration and design of their vases and lamps). During the first World War the Muller Frères glassworks closed its doors and the family members spread out over France, working for different glassworks (for instance Camille, Jean and Auguste went to "Landier Et Houdaille" in Sèvres and Émile worked at Choisy-Le-Roi). In this period they designed an Art Deco line, where decorations of animals and landscapes were strikingly beautiful. The Müller Frères pieces are often compared to Daum pieces in terms of quality and technique. In 1936 the Müller Frères closed their glassworks.
Measurements
12.5 inches around
Price (USD)
$ 1,850