Click to enlarge
Edgar Brandt Gingko Leaves Chandelier 4 Daum Glass Shades Signed
Item #2765
Edgar Brandt gingko Biloba Leaves "Fer Forge" Chandelier with 4 Daum tulip glass shades. Original and completed. Signed E Brandt on the ironwork and each glass shade signed Daum + Nancy France. The iron is very detailed showing the favorite design of Brandt: gingko leaves and berries. The construction of the iron and glass represents what we all would call old school craftsmanship. Not typical in any way. The Daum glass pieces are perfectly fitted with an opening that was made specifically for the iron of this fixture. The glass has a textured finish on the outside with specks of gold that add to an opalescent haze when lit up. The tolerance between the glass and the iron shows the perfect coordination of materials and construction.
Chandelier has been completely re-wired and engineered for immediate and long term use.
Edgar Bradt is certainly considered one of the most important French designers for the first "high point" of the Art Deco movement. His classic fountain design was one of the iconic images of the 1925 Paris Exhibition. You often see some of the more typical Brandt designs, table lamps, paperweights, bookends. He is also known for his famous Cobra lamp, also included with Daum glass fixtures.  I've seen many pieces over the years and this chandelier is quite unique. Recently purchased in France and the miracle it all arrived and is now 100% complete and original.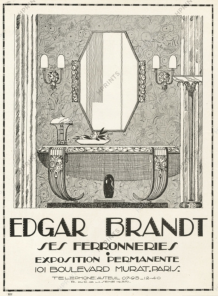 Measurements
28″ T x 16″ W x 16″ D
Price (USD)
$ 16,000