Click to enlarge
Karl Hagenauer Art Deco Woman on Horse Statue
Item #2733
Karl Hagenauer Art Deco Woman on Horse Bronze Brass Statue. Beautiful form showing stylized horse and woman in the dynamic pose with horse rearing up on back its letgs as the woman is riding the bucking bronco. Nice original condition, the combinations of the brass and patinated horse shows the typical range of this style of work.
Karl Hagenauer 1898-1956
Karl studied at the School of Applied Arts in Vienna with the architect Josef Hoffmann. Recognized by Josef Hoffmann:  "Karl Hagenauer has a very good understanding of form, his craftsmanship is very skilled;" he is "very gifted at drawing" and "very talented at design, and perfectly prepared technically."  Hoffman's convinced  of Hagenauer's talent, he commissioned him to execute objects for the Wiener Werkstätte. From 1917-1919.  In 1919 he joined his father's workshop, and was increasingly responsible for the commercial artworks. He created numerous works in silver, brass, copper, enamel, ivory, stone and wood which reveal the influence of Josef Hoffmann and the Wiener Werkstätte. After his father's death in 1928, Karl Hagenauer, with his brother Franz and sister Grete, led the company further and expanded it to include a woodworking shop and sales branches in Vienna and Salzburg.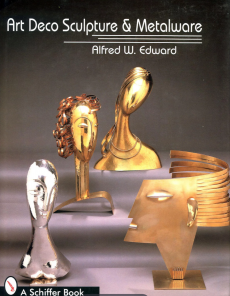 Price (USD)
$ 3,200