Click to enlarge
Amelia Earhart Marble Bust Flight
Item #3318
Amelia Earhart Marble Bust ready to take flight. Rare original one of a kind hand-carved marble bust, depicting Amelia ready for flight  with goggles and helmut. The quality is amazing and this one of a kind artist marble is very heavy, of  solid marble on an integrated marble base.
The legend of Amelia Earhart lives in the minds and imaginations of the public. This very special hand-carved marble bust was found in Argentina and made its way back here to the United States. Would make a great addition to any collection on early flights, airplanes or important woman of history.
Decades after her presumed death, Earhart was inducted into the National Aviation Hall of Fame in 1968 and the National Women's Hall of Fame in 1973. She now has several commemorative memorials named in her honor around the United States, including an urban park, an airport, a residence hall, a museum, a research foundation, a bridge, a cargo ship, an earth-fill dam, four schools, a hotel, a playhouse, a library, multiple roads, and more.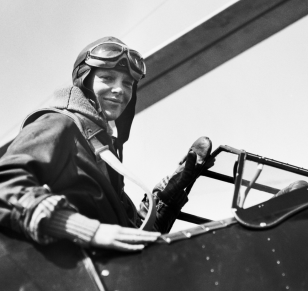 Measurements
18.5″ T x 15″ @ x 8.5″ D
Price (USD)
$ 3,500