Click to enlarge
Folies Bergère Plaque Maurice Picaud Silver-leaf on Terracota
Item #2785 SOLD
Plaque by Maurice Picaud Silver-leaf on Terracota. Iconic art deco image handcrafted in reduced versions of the facade bas-relief of the Folies-Bergeres cabaret which was originally made by Maurice Picaud aka Pico (1900-1977).
This stylish plaque has been reproduced at different times and I have seen it in different qualities and materials. This one,  the most accurate version I've seen, possibly sold at the Folies Bergère. Notice the depth and dimension of the design and the edge details, closer to the original version on the facade of the cabaret. Also made in terracotta and not a plaster resin as most cheaper versions available. You can see from the photos the hand made the quality of this unique sculptural plaque.
A gilt terracotta panel designed by Maurice Picaud for the "Follies Bergeres" circa 1925. Entitled "Serpentine Dancer", posed for the sculpture in ebony and natural oak frame. The panel was made for commemorative purposes and distributed as gifts to members of the Pico family and clients of the theater.
The Folies Bergère is a nightclub in Paris which opened in 1869 as a music hall. It was at the height of its fame and popularity from the 1890s until the Second World War. It is still in business.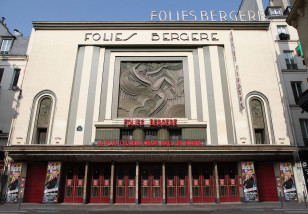 Measurements
18.5″ T x 19″ W x 3/4″ D
Price (USD)
$ Price not available