Click to enlarge
Ferdinand Parpan Art Deco Wood Sculpture Cubist Violinist
Item #2736 SOLD
Ferdinand Parpan (1902-2004) Art Deco wood sculpture "Le Violoniste" 1935. Rare cubist design, typical of his style of work and usual sculpture in wood, excellent condition. Mongrammed and enscribed F. Parpan directly on the back. Known for cubist musicians. accordionist, trumpeter, banjo,  and his worked has been sold by every important auction house.
Born in 1902, the sculptor Parpan participated in all of the movements of this lively era. His art reflected itself in forms between Cubism and Impressionism. They were never far from figurative representation, as in his widely acclaimed  series of musicians.
He also expressed an appreciation for animals and of course the glorification of the female body. He worked equally and artistically skilled in carving on stone,  on wood, and especially in making models for bronzes which are among his most accomplished art. His work has sold in all major galleries as is well documented.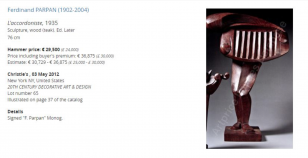 Price (USD)
$ Price not available