Click to enlarge
Pair of Silvered Champagne Buckets with Monopole of Reims Insignia
Item #3041 SOLD
These silver Champagne Buckets embellished with the Monopole of Reims embossed insignia make a beautiful pair. Picture them on a long dining table, set at either end.  More than just a name or logo, the lavish decorative feature of the Monopole crest is accompanied by grape details on the handles of each.
These are from the House of Heidsieck, founded in 1785 and known to be the official provider of Champagne to kings and emperors of Germany, France, Sweden, and Russia.  The trademark "Monopole"  was established in 1860 by the Heidsieck heir  Henri-Louis Walbaum and the brand is still being produced today. These champagne coolers in excellent condition are from the early 20th century.
We would love to see them both go to the same collector. It is so rare to find a matched pair and these are so special, but they are also being offered for individual sale.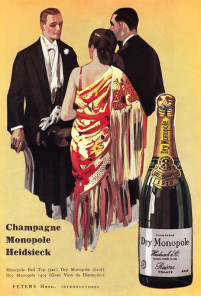 Measurements
10″ tall
12″ wide
Price (USD)
$ Price not available