Click to enlarge
Mid Century "Pinch" Design by Meriden Cocktail Shaker
Item #3238 SOLD
Unique, "pinched" design makes this Mid Century silver plated  cocktail shaker interesting to view, and to hold.  Marked Meriden with a nice signature on the bottom, it is in good condition, with its original cork and stopper.
The Meriden Silver Plating Company has a long history, having been founded in 1860 and in constant production of silverware and hollowware until 1965.
One of the things contributing to their fame was an Art Deco line for the passenger ship Ile de France in 1929.
The pinched shaped this shaker was perhaps one of the latest examples of their line .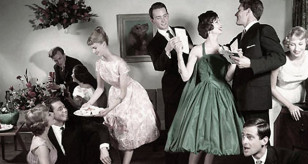 Measurements
8″ tall , 5.5″ wide
Price (USD)
$ Price not available