Click to enlarge
French Silver Champagne Bucket from Pommery & Greno,
Item #2391 SOLD
French silver ice bucket, embossed with the logo of Pommery and Greno  Champagne is a wonderful piece of advertising memorabilia and a gorgeous addition to your bar or table top. The company name, as well as a ship's wheel and a cascade of grapes are all embossed in the silver "repose" style and the plating is lush and perfect.
There is a maker's stamp on the reverse as well as the words Modele Depose Argit Paris.
Now pour yourself a nice glass of bubbly and sit back while I give you the interesting history of Pommery & Greno !
Original Poster by Achille Mauzan
While Greno was a vintner in Reims, France prior to 1856, it was that year that Alexander Pommery (who was actually in the wool business) bought in to the company. He died just two years later and it was his widow Louise who initiated the direction that would bring Pommery & Greno success and fame. She adjusted the sugar content to make a drier, less sweetened variety of champagne which was enthusiastically received by the British market. She is credited with creating the "Brut" style of champagne that is so very popular today.
Pommery & Greno has been a thriving winery ever since, with a beautiful castle as its home in France and worldwide distribution.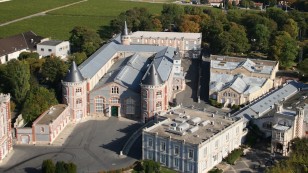 Our lovely silver bucket was designed during the Art Nouveau-into-Art Deco era and will provide you with a charming piece of winemaker history on the outside and keep your bottle nicely chilled on the inside!
Measurements
8″ tall
7.5″ wide
Price (USD)
$ Price not available