Click to enlarge
English Art Deco Modernist Macassar 3 Bottle Tantalus by Betjemanns of London
Item #2465 SOLD
Silver-mounted Macassar tantalus, with a patent mark of George Betjemann & Sons, London circa 1925-1930. A unique set with a very modernist approach, stunning cut crystal decanters with matching tops, all in excellent original condition. The company which had been active in England during the late 1800′s was better known for Victorian style tantalus with very fancy cut crystal. This set must have been a real diversion Betjemann's original design aesthetic (which is good for us).
This model is all original, with the the company's mark on one side of the metal fittings and the words Tantalus on the other, both clearly marked in the photos. Included are two original keys and the lock mechanism works perfectly. The use of highly figured macassar wood, with an ebony fluted base, is typical of the high style art deco French designs during this same period.
A tantalus was a very sophisticated accessory displayed in the homes of the upper class and nouveau riche.
"Tantalus is a small wooden cabinet containing two or three decanters. Its defining feature is that it has a lock and key. The aim of that is to stop unauthorised people drinking the contents (in particular, "servants and younger sons getting at the whisky"), while still allowing them to be on show."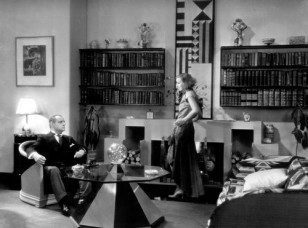 Measurements
14″ W x 13″T x 8″D
Price (USD)
$ Price not available