Click to enlarge
Art Deco Egyptian Revival Silver and Brass Jardiniere Three Piece Set
Item #3179 SOLD
A matched set of three silvered and gilded jardinieres in elaborate Egyptian Revival Style. Crafted in bronze, heavily plated in silver and embellished with gilded ornament these pieces are exceptional examples of the decorative arts of the early 20th century that brought together elements of Art Nouveau, early Art Deco and the wave of Egyptomania that began in the 19th Century and reached a peak with the discovery and exhibition of King Tutankhamun's tomb and it's riches in 1923.
The deeply articulated relief work in the designs make a montage of Egyptian symbolism, sweeping curves,stippled backgrounds. The symbols include the winged bird as a representation of rebirth and life and the destination of the soul after death.  Even the handles are based on the symbol that represents the "tree of life". It is magnificent in its execution and a rare find.
Removable brass liners are nestled inside, making them perfect for their intended use as planters, but we also can envision them filled with ice to make a spectacular Champagne cooler for your toast "To Life" !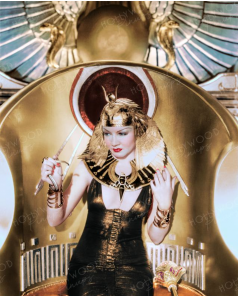 The fascination with Egyptology flourished in theArt Deco Era
Above an image from the movie Cleopatra with Claudet Colbert
Cleopatra by Demetre Chiparus 1925
Currently offered on our website
Measurements
Centerpiece: 13″ T x 17″ W x 8″ D
Garnitures: 14″ T x 11″ W x 9″ D
Price (USD)
$ Price not available