Click to enlarge
TLB Limoges Art Deco CoffeeTea or Chocolate Set
Item #2303 SOLD
Complete and completely fabulous Art Deco Coffee, Tea or Chocolate Set made in France by TLB Limoges: creator of  finest china in romantic and modernist designs.
The set consists of:
1)   Large pot
2)   Creamer and Sugar
3)   6 Oversized Cups and Saucers
All In  a geometric floral pattern can be used for any of the trio of beverages. The cup has nice faceting, the saucer is an octagon shape  and the condition is quite perfect. The flowers are delicate, feminine and with touches of pink, embellished with silver and black.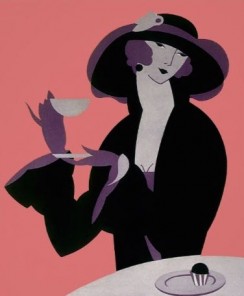 Yet the cups are big enough for a man who likes his coffee in a mug. May we demonstrate?  Here is a comparison of a typical teacup and the one from this set
Many china and tableware companies produce wares in Limoges, France and bear the name of the town which specializes in what is considered to be the very  best in hard paste porcelain material. This set, fabricated by the TLB Company (Touze, LeMaitre y L.Blancher) is an example of the forms in "Modern Taste" that they began to manufacture just after WW1. Decorative elements were designed by Lilian Glehn-Thibaut and were featured in the 1925 Paris Exposition des Artes Decoratif as well as the 1937 Exposition Coloniale Internationale. The famous French Department Store Printemps commissioned tea, coffee and chocolate sets such as this through their art workshop "Primavera".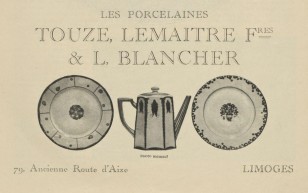 Les Porcelaines TLP flourished throught the 1920s and 30s but did not survive the second World War and ceased production in 1942. In more recent times,  this set was featured in the major  SFO Airport Museum exhibition "Life and Style in the Age of Art Deco" and is now available for sale !
Measurements
Teapot 9″ tall, 9.5″ wide with handles
Sugar 5.75 " tall, 6.5 " wide
Creamer 4″ tall, 5″ wide
Cups 4″ wide, 3.5″ tall
Saucer 6.5″ x 6.5″ diameter
Price (USD)
$ Price not available