Click to enlarge
Limoges French Art Deco Coffee Tea Service for 12
Item #2615 SOLD
An Art Deco Limoges Coffee or Tea Service for twelve of the highest quality, embellished with wonderful and stylized designs. This set was never used and bears the embossed label of H.Descamps gift gallery of Beziers, France.  The graceful, faceted shape and gilded handles as well as the "makers mark" on the bottom show this to have been designed by  Mavaleix  & Granger from the late 1920s.
Set includes 12 cups, 12 saucers, Coffee (or tea) pot and Creamer and Sugar
It is important to note that "Limoges" is not the name of a manufacturer, but rather the area of France with superior clay  which is considered to make the very best in hard paste porcelain material. In fact, in 1929 – the year the year this set was most likely designed- there were 35 separate companies that were part of the Limoges Union.  Some names are still familiar to us (such as Haviland ) but many were smaller establishments and many, like Mavaleix and Granger did not survive WW2.
M&G was a merger of Paul Maurice de Malaveix who had a porcelain works from 1900 to 1914 and J. Granger who managed the company  after Malaveix's death and through the 1920s and until 1938.  At its high point the company employed 160 workers and the designs of M&G were featured in  the Paris Expositions of 1925, 1931 and 1937. The famous French Department Store Primavera carried merchandise from the Limoges ceramicists.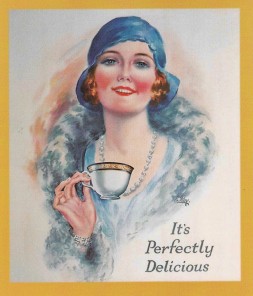 The modernist embellishments on these pieces is a bit of a departure from the more ornate and floral designs of the era,
and it would be a "perfectly delicious" addition to any Art Deco Collection.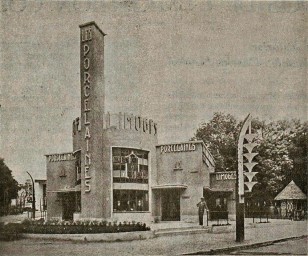 The Paris Exposition des Artes Decoratif and the Paris Intenational Coloniale Exposition created
 architectural gems in which to display the works of the Limoges Porcelaines. Here is the building from the 1931 Exhibition.
Measurements
Coffee (tea) pot is 10.5″ tall, 4.5 "wide (not including handles)
Cup is 2.25″ tall, 3.5″ wide (not including handle)
Creamer 3.25″ by 5″
Sugar 4.25″ wide 6.5″ tall
Price (USD)
$ Price not available