Click to enlarge
Art Deco English Tea Set by Alfred Meakin
Item #2373 SOLD
This lovely Alfred Meakin Art Deco English China tea set has a touch of Art Nouveau design. (Note the graceful handles on the cream pitcher and teapot ).It was a transitional style from the early 1920s described on the backstamp as "princess shape" , "marigold" and "bolsover".
Alfred Meakin Company was formed in 1875 in Tunstall, England and when he died in 1904 he was succeeded by his son Alfred James whose uncle Robert Johnson eventually took over the operations. The company was so prolific in the 1920s and 30s. There are hundreds of patterns and styles bearing the name "Meakin" altough this pattern (one of our very favorites) was produced exclusively for export .
This set includes four cups, four saucers, four plates an elegant tea pot, sugar bowl with lid and a classic creamer which is a grand size and can also be used as small pitcher for milk or juice. The Princess Shape refers to the octagonal plates, the angled and unusual handles .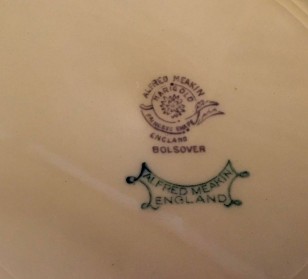 This decorative element is touched with silver trim, with orange and grey tones on cream dishware."
"Bolsover" is the name of an English castle from the 12th Century and rebuilt in the 1600s.  Meakin ceramics was owned by the same family until 1976 when, after 100 years in business it  finally became part of the Churchill Group.
Measurements
teapot
creamer
sugar
cups
saucers
plates
Price (USD)
$ Price not available