Click to enlarge
Wurlitzer Butterfly Baby Grand Piano Art Deco Streamline
Item #3197 SOLD
This 1937 Streamline Art Deco Butterfly Wurlitzer Baby Grand Piano. Wurlitzer 88 key Deluxe has been positively identified as the Style 1411. Of the Wurlitzer Butterfly Pianos, this model has the best detail. It has a unique winged shape and is one of the most sought-after Art Deco innovations in piano design. The design of the wood that backs the pedals has great art deco detail. Spectacular intense flamed mahogany wood looks great. Had a small remnant of original art deco fabric we were able to custom make a seating pad, one of a kind.
Streamlined elements, including a quartet of raised banding around the body. These are sound port slots that radiate around the case, and allow sound to escape the cabinet.  The "winged" lids open to reveal a secondary ported removable inner lid. These lids are decoratively cut out to allow the sound to ring out via a large F hole, similar to a violin, as well as multiple radial slots along the outer edge. The walnut is beautiful, warm, and deeply grained.
Although no one knows exactly how many of these were made the number is thought to be approximately 75 that was manufactured in 1937. The "Butterfly" was made in at least two different sizes including a 73 key version in a Duncan Phyfe, Louis XV, or Art Deco style case. The piano offered here is the most professional version of this piano, a standard 88 key model which makes it the most valuable. This piano has been well cared for and has been maintained by technicians during its life as indicated by our most recent service.  All the keys are in near perfect shape with no cracks or broken edges.  The interior soundboard is maintained, it has been restrung All adjustments completed and It is ready for another 80 years.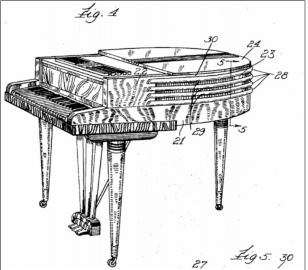 Butterfly Patent Drawings
  US Patent 2215097 is simply labeled as PIANO.  The design in this patent is credited to Cyril Farny. The patent was filed on April 19th of 1938.  The main focus of the patent is detailing the various ways the piano can be ported to allow the sound to escape the rim without opening the lids.  The piano actual case design is credited to William Zaiser  
Developed in a time of great innovation in art, design, and music the Butterfly Piano by Rudolph Wurlitzer is an example of a perfect piece of both form and function.
Click on photos to enlarge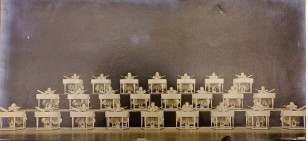 Measurements
36″ tall x 55″wide x 48″ long
Price (USD)
$ Price not available