Click to enlarge
S.T. Dupont Paris Art Deco French Leather Travel Cosmetic Case
Item #2282 SOLD
Ultimate luxury in a French Leather Travel Vanity Case filled with black enamel bottles, jars and brush sets. This handsome , never used artifact from the era of the Golden Age of Travel comes from the house of S.T. Dupont, Paris .  Dupont is famous for cigarette cases and lighters, compacts, cocktail and travel accessories.
Simon Tissot Dupont began making briefcases in 1872, eventually giving control of the company to his sons Lucien and Andre. In 1929 Lucien was invited to New York by Cartier to present his travel cases  on  5th Avenue . When he learned of the United States  stock market crash that year, he made the decision to make high priced goods that would be geared to those who were so wealthy they would not be affected by the crash. Elegant shops in France, England and the United States carried the exclusive line of leather cases and smoking accessories. Examples are on display in this streamlined design boutique of the period.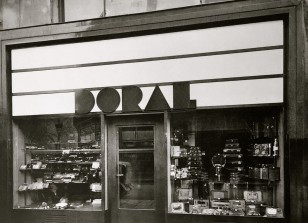 The travel case presented here exemplifies that kind of deluxe treatment. All black leather outside, and brilliant red leather interior, the compartments house a collection of black glass and enamel containers, each one with a gold insignia. Also included are a hair brush and clothing brush with natural bristles and a beveled mirror. Even the closures  and locks are elegant gold toned.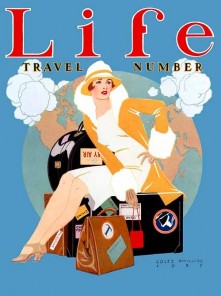 S.T. Dupont still manufactures beautiful and costly accessories, but the era of the vanity travel case vanished decades ago. How fortunate to find a complete and stunning set like this to remind us of that "Golden Age of Travel" and what a wonderful gift this would be
Measurements
20.50″ W x 15″ D x 2″ T (open)
10.25″ W x 15″ D x 4″ T (closed)
Price (USD)
$ Price not available