Click to enlarge
Mid Century Silver Menorah
Item #2347
A Mid Century Menorah is perfect for celebrating Hanukkah in a stylish way!  This beauty  with "tree of life" symbol and jazzy zig zag arms make this candelabra quite unique.  Professionally polished silver plate in excellent condition this would bea wonderful gift or something special for your own holiday table.
We have photographed it with  "extra tall" Dansk candles and surrounded by Hanukkah "Gelt" – the gold chocolate coins that are a tradition at this time of year. But don't let those tall candles (about three times the height of standard) lead you to believe that this is a small piece.   At  9.5 inches tall and  9.5 inches wide it is just the right size!
The hammered base bears the inscription "Made in Israel" which was implemented in 1948 , and indicates that this is a little treasure from the "Holy Land" itself.   Most "Israeli" silversmiths at that time had  emigrated from Germany and Austria, bringing with them the craftsmanship of those European countries but with a more modern point of view .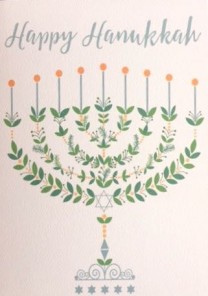 Measurements
9.5″ tall
9.5″ wide
Price (USD)
$ 650