Click to enlarge
Modernistic Art Deco Coffee Pot by Royal Rochester
Item #2255
Elegant and jazzy hand painted art deco Coffee Pot in the Modernistic Pattern by Royal Rochester . This piece is so sought after, so coveted and dynamic.  And here is a bonus:  it is in perfect condition and it even will percolate your coffee! Included is a creamer and sugar set.
This is part of a collection we are proud to offer from the combined efforts of Robeson Rochester and Fraunfelter China that made extravagantly beautiful but thoroughly utilitarian pieces in the late 1920s and early 1930s.
It is amazing to think that in the midst of the depression following the stock market crash of 1929 there were such gorgeous things to be had, not only by the wealthy but by consumers at every economic level.  How exciting and futuristic this pot must have seemed at that time, and its bright colors and bold pattern capturing the optimism that was needed to get through that era.
Here is a song by Irving Berlin that celebrates that national attitude: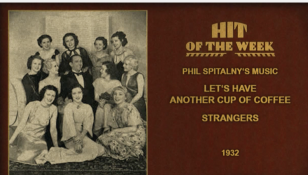 "Just around the corner  ….There's a rainbow in the sky
So let's have another cup o' coffee ……And let's have another piece o' pie!
Trouble's just a bubble…And the clouds will soon roll by
So let's have another cup o' coffee…And let's have another piece o' pie"
And we even have the matching Pie Plate !
Measurements
11″ tall
9.5″ wide
Price (USD)
$ 900