Click to enlarge
Vintage Manhattan Skyscraper Cocktail Shaker Norman Bel Geddes
Item #1830
One of the most collectible Art Deco cocktail shakers. Norman Bel Geddes Manhatton design, dedicated to interpreting New York City's skyline.  The "Manhattan" cocktail shaker represents the 1930s fascination with urbanity and modernity. The tall, cylindrical cocktail shaker stands straight up like a skyscraper reminiscent of the New York Skyline.
Manufactured in 1935. Markings: Stamped on the underside of the base of shaker (a): "Revere / ROME / N.Y." Cocktail shaker, chromed metal, tall, thin cylinder decorated with eight vertical ribs with strainer: inserted into a shaker and fitting under the lid with the flat, circular bottom with perforated strainer, surmounted by a thin cylinder, open above and a lid being a: simple short cylinder finished and decorated like a shaker.
Norman Bel Geddes American 1893 to 1958 Manufacturer: Revere Copper and Brass Company, founded in 1928. This Skyscraper Cocktail Shaker is Chrome-plated metal, manufactured: Rome, New York, United States, designed in 1934.  In newly restored condition!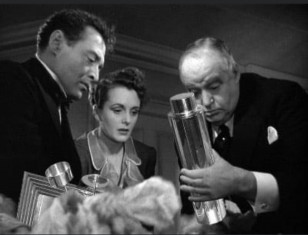 Measurements
12 3/4″x 3 5/16″ x 3 5/16″
Price (USD)
$ 1,850