Click to enlarge
English Crystal Tantalus in Locked Wooden Case by Rodolfo Eisler
Item #2590
A 1920′s Tantalus  with crystal decanters, a rich wooden case trimmed in nickel with lock and key. Highly faceted bottle stoppers beautifully reflect the light. This is a perfect piece for display or serving. It was made for the importer Rodolfo Eisler and a metal insignia has been mounted on the wood.
"Tantalus" is a mythological figure and also the name of this style of a collection of bottles on a rack. it refers to the idea that the liquor is "tantalizing" and appealing, yet not easily attainable. They were made most popular in the homes of the upper classes in England at the turn of the century.
"a tantalus is a small wooden cabinet containing two or three decanters. The defining feature is that it has a lock and key. The aim of that is to stop unauthorized people ( notably servants and younger sons) from drinking the contents while still allowing them to be on display
Rodolfo Eisler was of Austrian descent and an importer of fine china, silver and homewares that were primarily made in England. Luxurious items were commissioned and produced especially for Eisler and often bore his mark instead of, or along with that of the designer. Eisler brought to Argentina fine Fenton China, German silverware and an entire line of dishes by Clarice Cliff. He also produced  tableware  replicas of museum pieces. His goods were sold through the opulent Grande Tienda "Ciudad de Londres" (City of London) in Buenos Aires.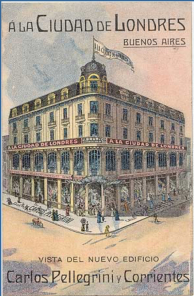 By the late 1920s Eisler opened his own establishment  at 325 Florida Street, in a neighborhood that was rich with British shops and restaurants all done with great style and furnishings. Some of the locations survive today:  Just around the corner is the "New Brighton", once an elegant men's haberdashery and now a beautiful restaurant. Other "neighbors" included the Richmond Tea Room, Claridges Hotel and further down Florida Street, Harrod's Department Store.
Measurements
11″ Tall 9″ Wide 5.5″ Deep
Bottles 9″ tall, 3.25″ Wide
Price (USD)
$ 1,850