Click to enlarge
Asprey Bell Shaped English Silverplated Cocktail Shaker
Item #2464
Novelty bell cocktail shaker by Asprey & Co. London, 1937.  Figural bell, or town-crier cocktail shaker. This fine silver-plated bell is among one of many creative and imaginative cocktail shaker forms offered by this highly regarded firm in England. Asprey – synonymous with quality, the shaker divides into three sections, the base for liquor and mixer, the top unscrews to reveal a cork and pouring section.  Asprey has long established as a leading specialist in finest quality period Art Deco era cocktail shakers, this one is especially interesting for the "advance collector".
Stamped on the base "Asprey London EPNS Made in England 10"  Circa 1937 newly restored silver-plate.
The figural bell shape was also produced in the United States, (not nearly as high quality as the English version, Dunhill also offered this model for sale) in different versions with wood handles and was advertised using the catch phrase "Ringing in Good Times".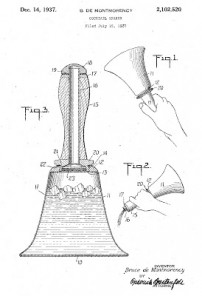 Measurements
11.5″ T x 6″ W
Price (USD)
$ 1,800