Click to enlarge
Art Nouveau WMF Table Center Piece Jugendstil
Item #2773
Art Nouveau Silver Centerpiece was created by the renowned German company WMF,  in around 1906. Can you imagine a time of elegance when every well-appointed home had something of this style on the dining room table or living room mantlepiece? They were designed to hold a low arrangement in a decorative glass liner with fruit or flowers abundantly cascading over sweeping silversides. The pieces are stamped with all the WMF marks shown in the last two photos.
We especially like this one as it hints of the evolution of style that led the very embellished decoration of the turn of the century into what would eventually become "Art Deco". This facet of Art Nouveau was the "Jugendstil" that retained some of the curves but embraced clean lines and a geometric style. Artists that worked in the school of "Jugendstil" were dedicated to finding ways of balancing ornamentalism with functionalism, and ways of reconciling art with industry. You can see evidence of that in the architecture and graphics of the period.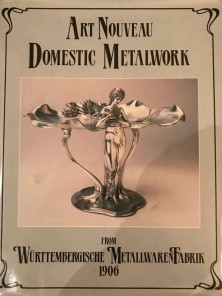 The firm of WMF (Wurttembergische Metallwarenfabrik ) produced hundreds and hundreds of household objects in a high-quality silver plate that celebrated the Art Nouveau and Jugendstil movements and promoted the fashion by selling their pieces all throughout Eastern and Western Europe as well as South America in the early part of the 20th Century.
Measurements
16.25″ W x 7.25″ X 8″ T
Price (USD)
$ 1,850