A young Frank Sinatra croons from a 1941 Wurlitzer jukebox as Richard Fishman unlocks the door to his Oakland condo and stretches a near perfect smile.
The 40-something Fishman is a period piece himself clad in a crimson- speckled suit, a beaver Borsalino fedora and a pair of Spectator shoes that are scuffed just enough. "I did this whole apartment to match my cats," Fishman announces of his copper-hued, religiously Art Deco home in the historic Bellevue-Staten Apartments. He's only half joking. Fishman's very DNA, it would seem, is fashioned out of Art Deco's signature geometric simplicity — its zig-zags, its chevrons, its spirals and its neon. His possessions likewise ooze Deco — from a curvaceous English ship bar, to his compilation of two-toned Spectators, to Nick and Nora, his copper-toned Abyssinian cats who were named after the husband and wife detective team in the 1934 mystery classic "The Thin Man." The son of a couple who married in Miami's Art Deco mecca, South Beach, Fishman first was inspired by the Moderne style in the late 1980s, while at a party at San Francisco's Palace of the Legion of Honor.
"I started walking around, touching all of the artwork," he says. "That's when I got this great idea — to create a space that is as good as a museum in terms of loyalty to a period, but one that people could touch, use and feel comfortable in." The self-proclaimed curator set out to do just that and soon became a dealer of all things Deco. Sixteen years later, Fishman has collections of collections: artwork, china, acoustic guitars, hats, shoes and shoe boxes. He has medallions from world fairs gone by, and boxes of vintage magazines with covers designed by the likes Cassandra and Erte. Perhaps most impressive is his extensive collection of pottery by Belgian designer Boch Freres. "I bought my very first piece 14 years ago. And for years I couldn't give this stuff away," Fishman allows of the Art Nouveau wares that first won international acclaim at what many consider the birthplace of Art Deco — Paris' 1925 Exposition Internationale des Arts Decoratifs Industriels et Modernes. These days, Fishman is considered one of the world's top Boch dealers.
HOMAGE TO AN ERA
Towering over Lake Merritt, the landmark Bellevue-Staten was the first large-scale building on the West Coast to be constructed of steel. The posh 15-story building (minus the non-existant 13th floor) was originally designed by architect Hermann C. Baumann to include a full-service restaurant and servants' quarters for the wealthy families who resided inside. Today, 492 Staten Street is listed on the National Register of Historic Places, a well-kept tribute to the Art Deco era with its spires, Streamline Modern cornices, red brick and creamy terra-cotta facade. "I moved to Oakland to live in this building," says the Michigan native, who called San Francisco's Marina and Twin Peaks districts home before moving into the 1929 skyscraper nearly a decade ago. His fourth floor condominium — a golden, cream and rust-colored homage to the fabled era — quickly proved to be a treasure trove.
Soon after moving into the 1,750 space (and admittedly downing at least one gin martini), Fishman started seeing blue in the all-white tile of his guest bathroom. He quickly discovered it wasn't the Gordon's Gin playing tricks on him but the room's original turquoise tile, which had been covered years earlier. "I thought I had discovered Atlantis!" he says of the find. "Within seconds I was on the floor, martini to one side, and tiles were everywhere." Fishman likewise uncovered original tile in the master bath, which is featured in Jane Powell's "Bungalow Bathrooms" (Gibbs Smith, 2001). He debated replacing the home's non-period light fixtures with streamlined steel and copper lamps, sconces and the like. But in the end he opted for mostly vintage iron pieces to blend in with the soft, earth-toned palette.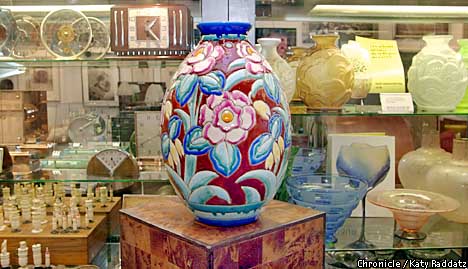 In the dining room, for instance, Fishman chose a mid-1920s chandelier in iron and muted peach glass. In the master bath, he coupled vintage wall lamps with contemporary spot lighting. The choice made up for the lack of natural light, striking a balance between mood and practicality. "That's always the struggle with period lighting," he says. "It's good ambient lighting but not so good task lighting." Furnishing the spacious 2-bedroom condo proved less of a compromise. He faithfully filled the space with plush, comfortable originals including a mohair kidney couch and a cozy quartet of swivel chairs he snagged from a hotel in the South of France. His most recent prize: an original French marquette of a Josephine Baker dance poster (circa 1936) worth an estimated $10,000.
KEEPING DECO ALIVE
Outside the coifed confines of his fourth-floor abode, Fishman is doing everything in his modish power to keep the dream of Deco alive. Known to Art Deco buffs as "Mr. Rick" (as in Casablanca's club owner), Fishman in the 1980s opened a retro menswear store and Art Deco gallery in San Francisco called "As Time Goes By" after the movie's theme song. During that time, he also started the Le Sport Sac and Traveling Light stores. By 2000, he had launched Art Deco Collection.Com, an online retail store specializing in vintage lighting fixtures, glassware, ceramics and barware. The cyber store branched out into a showroom and eventually a sister store – – Art Deco Furniture — on Oakland's Grand Avenue. These days, Fishman treks to Europe (mostly Belgium, the Czech Republic and the South of France) several times a year to hunt down wares for his businesses. As a designer and stylist, he supplies period furnishings and other Art Deco items for magazines, designer shows and other media. "I think of myself as a conduit for beautiful things," he explains. "I buy beautiful things and sell beautiful things. I'm their temporary curator." As a musician, Fishman plays guitar for The Martini Brothers, a local band that he helped create. And as a member of the well-shod smart set, Fishman and his partner Laurie Gordon put on the ridiculously popular "Mr. Rick's Martini Club" — recreations the 1930s Hollywood supper clubs and swing dances, which are frequently held at the recently-refurbished Lake Merritt Hotel for 200 or so of his closest friends and Deco devotees. Be it home decor, architecture, music or fashion, Fishman explains his enduring lust for Art Deco this way: "It reminds me of my grandparents. There's a warmth and familiarity about it that you don't find in other styles. It's serious, but not too serious not to have fun. And it's close enough to our own experience that it's accessible."
For more information on The Martini Brothers band visit www.martinimusic.com.
For more information on Fishman's Art Deco stores visit www.artdecocollection.com or call (510) 465-1920.