Click to enlarge
Rare Art Deco Ceramic Lamp by Frie Onnaing of France
Item #2562 SOLD
This ceramic lamp by the French maker Frie Onnaing is a rare example of Art Deco Styling from a company famous for Majolica with a completely opposite point of view.
While Majolica is glossy, whimsical, gaudy and more "Art Nouveau"  the smooth, rich, geometric  and sophisticated  decoration on this graceful ceramic table lamp is pure " Art Deco". It is  rendered in warm  tones of bronze, copper, silver and gold in a diamond pattern  with a bright white interior finish that casts a pleasing light source.
The braided cloth wiring and brown bakelite switch are period correct touches . This piece could be mounted on a tall pedestal to form a dramatic torchiere, placed on a table or even used as a floor based uplight.
Currently we have two matched urns (covered vases) by Frie Onnaing
and all three pieces would look fabulous together if you have room to purchase them all!
Click the image below to see the description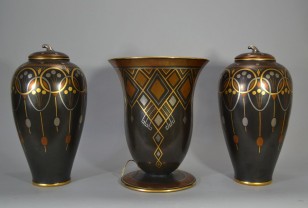 Frie Onnaing produced pieces from 1850-1947.  Using clays from England, France and Belgium, it developed a highly popular type of colorful, decorative tableware.  Most of the time you might see examples that look like those below so it is easy to see why this spectacular Art Deco Lamp, well marked with the company name and symbol is so unusual and such a great "find".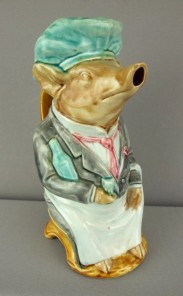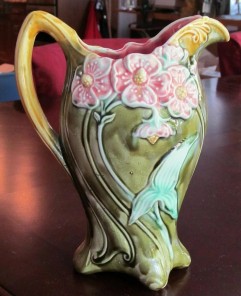 Measurements
15″ tall
12″ wide
Price (USD)
$ Price not available