Click to enlarge
French Art Deco Pair of Urns by Frie Onnaing
Item #2563 SOLD
A rare pair of French Art Deco ceramic urns from the 1920s by the historic company Frie Onnaing that flourished from 1850 to 1947.
These urns have lids with a whimsical touch in that they look like apple stems, but everything else about the design of these pieces is elegant, geometric and streamlined.
The voluptuous shape of the urns is embellished with a rich combination of gold, silver, copper and bronze metallic designs. The inside of each is pristine white china. This is a most unusual example of Frie Onnaing ceramics as it almost always has a palette of bright and shiny colors, thick relief and humorous, gaudy and figurative imagery (think flowers, pigs, roosters and corn for example). An artisan within the foundry must have been influenced by the Paris Exposition in 1925 or the work of the Belgian Boch Freres to have departed from the heavy Majolica to fashion this sleek pair of urns.
We also have a table lamp/uplight designed by the same craftsman and the three pieces would look wonderful displayed together if you have a spot for them all !  You can view the description on our website.  Click the image below to learn more about it.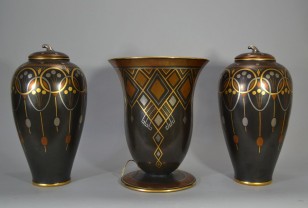 Measurements
18″ tall
8.5 " wide
Price (USD)
$ Price not available