Click to enlarge
Complete Silverware Service for 12 in Fitted Art Deco Storage Cabinet, Bafico of France
Item #3247
A  set of silverware – in a lavishly complete service for 12 that includes a wide array of serving pieces all nestled in a fitted chest that also is used as a small table. Made in the1920s and imported from France, the case is done in a sleek Art Deco Style with an inlaid dot pattern in the wood finish. The silver pattern has a scalloped detail that bridges both the Art Deco and Art Nouveau style.
This French set was brought to Buenos Aires during the "Golden Age" when Argentina was a wealthy country.  All of the "best" homes had boxes like these, with perfectly fitted storage for each utensil. The one we present here has been newly redone with fresh pale blue fabric that holds 132 pieces.
Make no mistake, an heirloom worthy set like this can be considered the height of luxury , especially with the matching extra pieces such as fish forks and knives, a tea strainer, tiny salt cellars, a monumental ladle , carving set and gravy spoon but it is entirely useful with so much variety in the pieces and the table in which to store it. Keeping silverware in a felt lined chest such as this protects, organizes and keeps it from tarnishing but the best thing you can do with silverware is to polish occasionally and use it often!  Bon Appetit!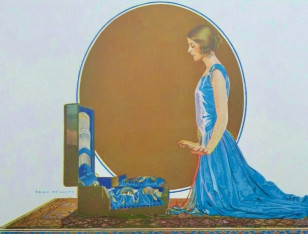 Both demitasse spoons and tea spoons are incliuded
along with a  matching tea strainer- how unique!
Set contains
12 Fish Forks
12 Dinner  Forks
12  Lunch Forks
12 Fish Knives
12 Dinner Knives
12 Lunch Knives
12 Soup Spoons
12 Dessert Spoons
12 Tea Spoons
12 Demitasse Spoons
and these Serving Pieces:
Soup and Gravy Ladles
Carving Set
2 Serving Spoons
Fish Knife and Fork Server
2 Salt Cellars
Matching Tea Strainer
2 Keys to lock the box
TOTAL:  132 pieces
Measurements
24 #* wide
17″ deep
31″ tall
Price (USD)
$ 7,500