Click to enlarge
Christofle Luc Lanel Ondulations pattern knife rests
Item #2198
12 original Christofle knife rests complete in original box.  This is a very modern design from the 1930′s attributed to Luc Lanel who did so much of the most memorial and collectible tableware for Christofle during this period.
The design is called "Ondulations" emphasizing concentric circular lines and can be found in everything from:
champagne buckets       
ice buckets                       
center pieces as well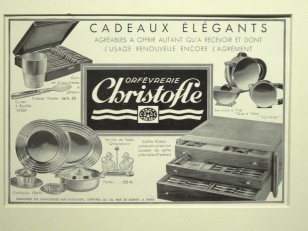 Many of these were known to used in the 1st class cabin on the trans-atlantic ocean liner S.S. Normandy.  These are not something you typically see used in the United States, but they really can set off a table in the most dramatic way. I think your guests will enjoy the added detail and learn something about the manners and sophistication of a bygone era. Each piece is stamped christofle in the metal as illustrated in our photos.
Measurements
Box: 13.25″ W x 5″ D
Rests: 3.5″ W x 1″ D x 1″ T
Price (USD)
$ 650